Kudits Available on the App Store
Atlanta, GA — August 6, 2008
As you can see, it's been a while since we've posted! We've been hard at work making updates and developing our new native applications.
If you're running the latest iPhone 2.0 OS, Kudit is excited to announce new versions of your favorite Kudits now available on the iTunes App Store. We've been hard at work upgrading our Kudits and adding new features and here's the latest to leave the labs.
Impress your friends with how cool the iPhone is with your very own fingerprint authentication system. This is a simulation of a fingerprint scanner and for amusement purposes only. Only you will know the secret of how to get it to authenticate.
If you're in a loud room or you just wanna super-chic way of saying "Hey" to that stranger across the room, why not use your iPhone? You write the message and watch as heads turn to see your message scrolling across your iPhone in large text like a marquee. Use it to find your friends in a crowd or send a message to the driver next to you. Great for finding your friends in movies, restaurants, and other crowded events. Don't just say it, shout it!
Now it's easy to calculate the appropriate amount of gratuity for your waiter with Tips. Simply enter the total of your bill, flick the slider to reflect the percentage to tip and your tip amount and total are shown at the bottom! There's even a slider to flick if you need to split the bill amongst multiple people.
A chilling look back at a time where we enslaved ourselves between fear and superstition. Is the Mystic Seer always correct? Does he really know the future? Ask your Yes or No question, but between the answer that lies ahead of you. Sound effects, vibration and animation make this a wonderful entertainment piece.
Keep track of the scores of two teams with this elegant scorekeeper. Customize colors and team names and flick or tap to keep score. Versus always remembers your settings so you don't have to! Fast loading and elegant design make this a must-have utility for every iPhone. Great for beer pong, table tennis, charades, card games, etc.
We've revamped Simon into Mimeo! Enjoy this modern version of "Simon Says" by repeating patterns presented to you. Start with one and keep building the insanity until you can't remember anymore! Can you repeat the pattern? This game works in both portrait and landscape (our favorite) modes. How long can you keep up?
As a bonus to our loyal customers, if you purchased a subscription to one of our apps that's now native and decide to buy the native version, simply forward us the receipts for your App Store purchase and your latest subscription payment and we will refund your latest subscription payment!
---
About Kudit
Kudit began creating applications for the iPhone with the first web-based apps in 2007. With the introduction of the App Store in 2008, Kudit quickly emerged as a leading developer of unique and fun apps that feature a perfect blend of award-winning usability and elegant design, and has been recognized by iLounge as a top-100 iPhone apps developer for both 2008 and 2009.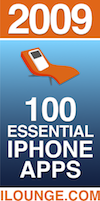 Press Contact:
Chris Ryan
pr@kudit.com
Follow Us
Follow us on Twitter for updates and development news:
http://twitter.com/kudit