Be creative!
Atlanta, GA — November 25, 2007
Be creative with our first addition to our creative suite:
Lites
!
Flex your creative side. Begin with a palette of emptiness and use colors to create patterns and other interesting creations. Save and restore your current design. Because data is stored on the server, you can play on your desktop, iPhone, and iPod touch!
---
About Kudit
Kudit began creating applications for the iPhone with the first web-based apps in 2007. With the introduction of the App Store in 2008, Kudit quickly emerged as a leading developer of unique and fun apps that feature a perfect blend of award-winning usability and elegant design, and has been recognized by iLounge as a top-100 iPhone apps developer for both 2008 and 2009.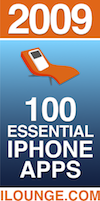 Press Contact:
Chris Ryan
pr@kudit.com
Follow Us
Follow us on Twitter for updates and development news:
http://twitter.com/kudit